In this blog I will talk about Alfresco upgradation and 5 points which can help you in Alfresco upgrade.
Alfresco upgradation is a mandatory process, it should be a priority for Alfresco business users. If an Alfresco business user do not upgrade Alfresco and keep missing major releases then in future. Alfresco Upgrade could be pain to deal with.
Alfresco upgradation required for data and code both.
One of my client was still running Alfresco 3.x, and they didn't upgrade the system on time to time. Now for client it is resulting in to high cost on following things:
Code upgrade.
More time-consuming process for data upgrade.
There can be possibility to do re-development of some of the functionalities.
To avoid such issues, it is always advisable that Alfresco needs upgradation to the latest stable version on time.
Alfresco Upgrade Path    
Following is upgrade path of Alfresco, make sure whenever you want to upgrade Alfresco to the latest stable version you follow the upgrade path.
So, before you start for upgradation go to Alfresco documentation and check for the upgrade path.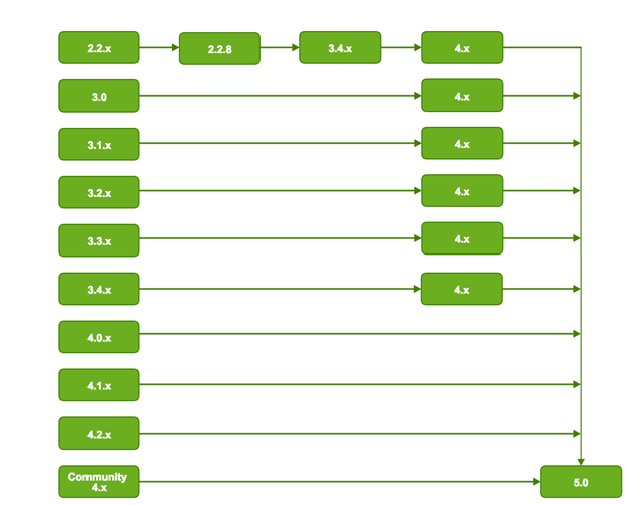 Pre-Validation    
Validate your requirements before starting for upgradation like your platform is still on the supported stacks for the new version of Alfresco, language support, architecture support & supported environment (Oracle JVM, ports for supported protocols, OpenOffice, ImageMagick).
Backup and restore strategy    
It is advisable to backup before starting for upgradation. You need to backup of the production data because It helps in restoring if your upgraded data is corrupt.
Identify deprecated and new feature     
It's advisable to identify deprecated or removed feature or architectural changes of Alfresco in the targeted version. It can make difference and help when you upgrade version of Alfresco.
For example, if you have done UI customization on old JSF UI of Alfresco in the old Alfresco version then in new version you will have to redevelop in Alfresco share UI.
One more example is Lucene search subsystem is not available in the latest Alfresco 5.x, so you must move to Solr and once you are done with data upgradation then indexing by Solr needs to be done for the entire repository.
Post upgrade activity     
Once your data upgrade completes then you must deploy your upgraded customized code on Alfresco and perform routine tests which you usually perform on your old version of Alfresco. Make sure Solr indexing completes for entire repository if Solr indexing not done then your system may give incorrect search results.
Alfresco Upgrade is a topic which can't be covered in a single blog, I tried to share some of the points which should be taken care while upgrade.
We at EnProwess and other Software Development Companies have Alfresco expertise with upgradation, migration, integration & customization. Specifically, we have done upgrades for a few customers, from the version Alfresco 3.x to Alfresco 5.x and it involved complex customization of code as well.
Blog by,
Rupesh Sawaliya